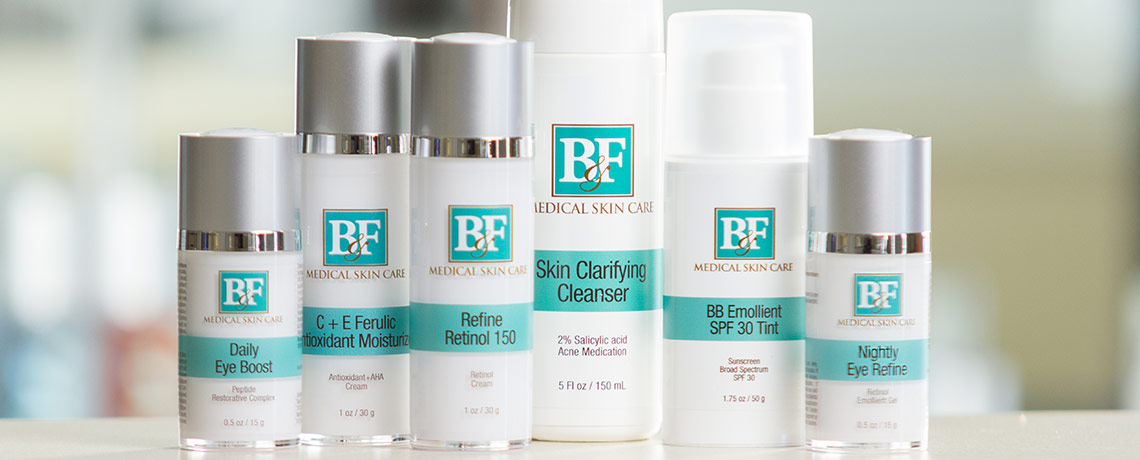 These customized blends of physician's strength ingredients was formulated by Young Pharmaceuticals and the staff at Body and Face.  We strive to create products that would improve the health of the skin, diminish the signs of aging, and protect from future sun damage.  By using the purist and more stable ingredients available, these produces will produce a visible improvement in a person's skin, whether the objective is anti-aging, brown spots, acne, rosacea, fine lines, etc.  We stimulate the body's natural healing ability to reproduce healthier, more youthful cells which makes the skin look and act younger.  By nourishing with highly consentrated forms of retinol, antioxidents like vitamen C and E we improve texture, tone and more.  We also calm and sooth with green tea extract and hyaluronic gel.  All the produces have a nice silky finish leaving the skin soft and luxurious.
---

For anyone that wishes they had longer, thicker eyelashes, FDA approved Latisse is the answer.  By appling the solution daily to the upper lash line results will become visible in as little as four weeks.  This medication increases the number of hairs in the active growth phase while also extending this phase, allowing the hairs to reach their maximum potential.  Maximum length can be achieved in about 16 weeks.

---

The skin care systems and products contained in this line are designed for a clean, non-buffered approach.  High quality at the best value.  Simple glycolics, salicylics, and lactics.  The aestithician can prescribe which of these professional grade products suit the individuals needs.
---
GlyPro by SkinMedica
Advanced skin care from the SkinMedica line provides a powerful glycolic base.  GlyPro products have been formulated to regenerate elasticity and complement the skin's natural healing abilities by exfoliating and providing nourishment.  GlyPro leads to the reduction in the appearance of fine lines and improve tone and texture.